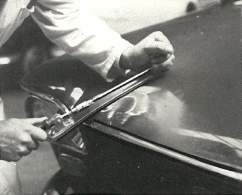 Our Milled Tooth Files in chromium-steel fulfil well distincts needs. Each tooth is a cutting tool which has a chip release angle and a clearance angle of wich the cutting angle is sharp. This cut enables to avoid the fouling of the teeth.
In very hard steel, they have a superior productiveness than mechanical files. They are used for roughing, filing, smoothing stressless all metals: lead, zinc, cooper, steel even contruction, repair shops for working aluminium, steel sheet (on flat, rounded surfaces).
There are two types of toothing, with or without chip breaker:
- Curved tooth, resulting form a very accurate milling of each tooth.
- Straight tooth.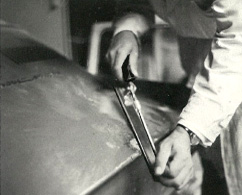 Bastard used particulary for non ferrous metals, bronze, aluminium, non metallic materials (plexiglass, bekelite products, asbestos, compressed wood) mild steel also.
Half-smooth preferably used for phospho bronz brass, half-hard steel, marble and some mild plastics, formica.
Smooth for cast iron, stainless steel, hard steel and on thin surfaces.
The Milled Tooth Files PASCAL find important openings in the metal work, particulary in the motor car industry. The engineers have introduced a new process of cutting wich enables to manufacture Milled Tooth Blades specially intended for body finishing works.